Eco-Fog Mobile Fogging Systems
Our Eco-Fog mobile sanitization systems are a range of portable disinfection machines giving you the ability to carry out an antiviral deep clean of your premises.
Using our Dry Fog nozzle technology which creates a fog consisting of droplets of between 1-5 micron, our Eco-Fog range of mobile fogging sanitization systems comprises of three different Models.

Eco-Fog Model 1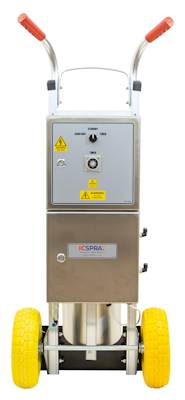 Eco-Fog Model 2

Eco-Fog Model 3
More Info: Eco-Fog Mobile Fogging Sanitization Systems.

Portable 'No-Wet' Disinfection Machines
All the Eco-Fog models use our Dry Fog nozzle technology which creates an ultra-fine fog with droplets between 1-5 micron which does not wet and is suitable for applications such as all industrial, hospitality industry, hotels, holiday accommodation, offices and many more.
The fogging nozzle head comes complete with a non-drip and self-cleaning valve meaning that when the head is turned on/off it never drips and it is virtually maintenance free.
Due to size of the droplet created, the Eco-Fog models are suitable for use in environments where electrical equipment, machinery or fabric is present.
Which system is most suitable for you depends on the application, size of the area needed to be controlled and the level of control and operator input required. However, these sanitization systems are suitable for most applications where areas need to be disinfected and sterilized.
For more information call: 01642 057085
... or download our Eco Fog Systems pdf.